SOH CHO 4 - 6
SOH CHO 4 FIRST TAKE
FIRST TAKE will focus on first impressions. this session is an extension of U SEE ME, I SEE U [2] where we explored the relationship between curated ornamentation, the self, and perception with two attendee-models under the spotlight. In FIRST TAKE [4], we want to open the floor up to everyone. while figure drawing each other and conversing, we will observe how much authenticity is detectable through body language and personal style. > read about soh cho
$ 1 5 WINE + ART SUPPLIES PROVIDED
1 5 % SOH CHO PROFIT DONATED TO ART START
INSPIRATION KELLY MARIE BEEMAN
"By 'dressing' the characters in her paintings, she uses fashion as a tool to create personalities, narratives, and context, and explores the significance of trend and personal appearance in modern culture." @KELLYMARIEBEEMAN
CREATIONS copic markers and colored pencils (ice blue)(pale pink) on paper (toned gray) 5.75" x 8.5"
EXPERIENCE
> 15% profit donated to ART START
> playlist first take
> SPIN THE BOTTLE when the bottle lands on you, open it, grab 1 piece, then read and answer the question aloud
photos by casting director, photographer JAMES CHATMAN
HELLOSOHCHO@GMAIL.COM
SOH CHO 5 IF I WERE BLIND
IF I WERE BLIND will comprise of the dots and boxes game and blind contour drawing of a relatable still-life carefully curated by SOH CHO. intuition will fuel both the game and blind contour exercises, for neither can manifest without authentic, instinctive reflexes and self-trust. we will promote the beauty of unfiltered storytelling and imperfection by pushing you to capture an honest depiction of a (moment)(mood)(energy) in time.
$15 WINE + ART SUPPLIES PROVIDED
15% SOH CHO PROFIT DONATED TO: ART START
INSPIRATION JEAN MICHEL BASQUIAT 1960-1988 website + info + documentary
CREATIONS oil pastel (aquamarine)(citrus)(black) + acrylic dots (tangerine) + copic markers + paperclips on transparent paper
> artwork by SOH CHO 5 ATTENDEES
photos by casting director, photographer JAMES CHATMAN [above]
photos by soh cho [below]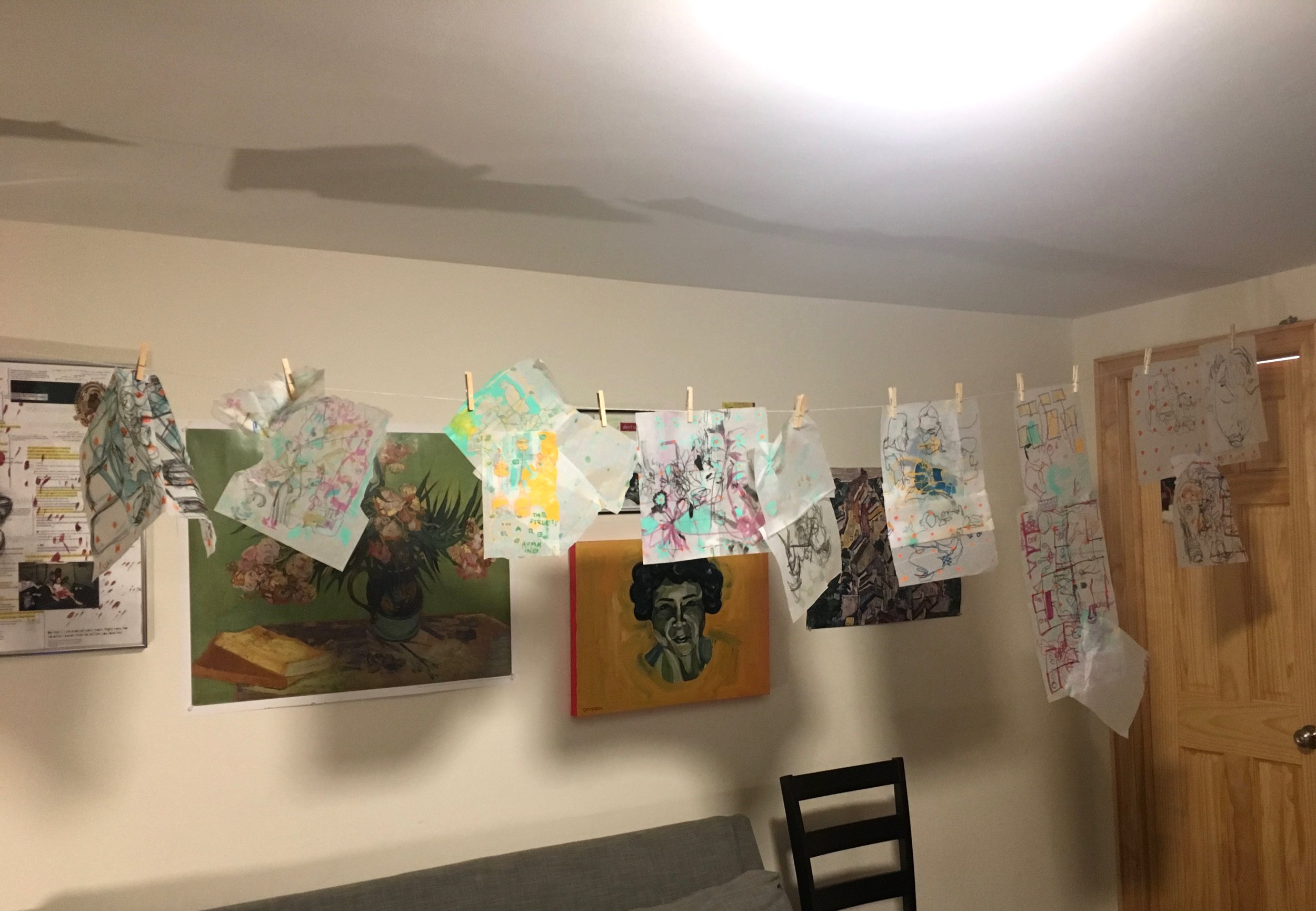 "we are entering a private area, seeing things not intended for our eyes, and yet we remain secret,
unseen onlookers are able to retain our own desires undetected."
egon schiele: the midnight soul of the artist
in a carefully curated bedroom installation, you will feel the (intimacy)(authenticity)(loneliness) that lie within the walls of a home.
WAKE UP ALONE will invite you to peer into private moments as you watch chosen-attendee-model enter her home alone after a long day. as she sheds off the day's (clothing)(confidence)(ambitions)(mask)(forced smile), we will capture her (emotional honesty) in 5 distinct, time-lapsed poses.
$15 WINE + ART SUPPLIES PROVIDED
VENUE CON ARTIST
INSPIRATION EGON SCHIELE 1890-1918